Course of  Laughter Therapy and Deep Relaxation Method (DRM)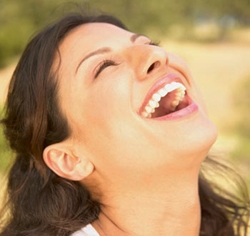 DRM is a complex method of acting upon the whole organism of man, including physiology, the nervous system, the physics, and mind. The method is aimed at deep purification of the organism from stress, at its strenghthening and stabilization.
It is a method of stimulating the mechanism of self-regulation and of improving the vital potential of man.
DRM includes a complex of rational exercises composed from Himalaya and Yoga gymnastics, balanced breathing, elements of laughter therapy, and other components. In their complex they exert positive action on the main vital activity centres of the individual.
People who have undergone a DRM health course start feeling better, their physical state of health improves, a general rejuvenation of the organism takes place, their working capacity increases, their mental faculties improve, psychics and nervous system get strengthened, interrelations with other people get better.
It becomes much easier to get rid of bad habits (alcohol, smoking etc.). The weight gets normalised, and diseases, traditionally considered as incurable by medicine, retreat.
In addition, specially trained instructors correct the energetic life line, which optimizes the activity of vertebral and cerebral brain, makes their functioning more efficient and rational (in the East the energetic life line is called kundalini). This favourably affects the state of health and all manifestations of human activity, stability in life and in society.
The instructors of the method occupy themselves with the practice of Knowledge of human development (the practice of consciousness development), which makes the achievement of these results possible.
The basic aim of DRM is to prepare the whole human organism for obtaining the practice of Knowledge of human development (the practice of consciousness development). Practical acquisition of such Knowledge makes man enter into dialogue with life, and get an answer to the question, what does life want of him, in other words, what is the sense of life.
Any man can improve his life, make it happier, get rid of disease, only if he changes to the better, getting more perfect, for disease does not strike man by chance. We possess the Knowledge, how to do it.
The ordinary course of DRM consists of 9 days of exercises in a row with one free day (break) and approximately 2-3 control days more after some interruption days, 2-3 hours every day. Afterwards, those, who specially desire, may go through a course for acquiring the practical Knowledge of human consciousness development.
This Knowledge does not affect the political, national, or religious convictions. Practice is a powerful catalyst in any kind of human activity. New knowledge gets more easily acquired and achieves more significant results than previously.
The practice of consciousness development is not just ordinary training. This Knowledge has always existed.
Everybody has a right to happiness, and we want to provide this possibility.